Healthy Cinnamon Biscuits
Tiikat loves eating biscuits at Tii-time.
These easy biscuits are healthier than most biscuits.
They only use a small amount of honey or maple syrup to sweeten them, and need only a little butter or oil. We think they are delicious served with yoghurt and berries.
They can be used to build mini biscuit houses, but be careful as they are very crumbly!
Cooking time:  less than 10 minutes preparing, 10 minutes baking
Makes: 15 – 20 biscuits
Difficulty Level: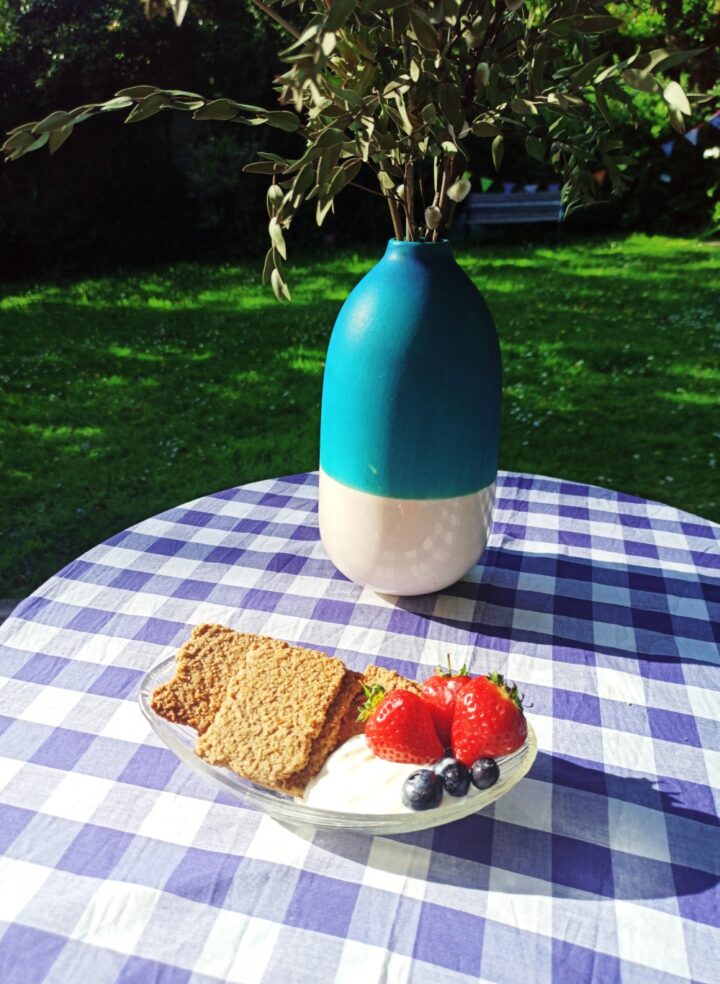 Ingredients:
1 cup rolled oats
60g butter or coconut oil
1 tablespoon honey or maple syrup
½ teaspoon baking powder
1 teaspoon cinnamon
¼ teaspoon ginger
Equipment:
Food processor
Baking (or greaseproof) paper
Large baking tray
Rolling pin
Preheat the oven to 180°C (350°F), 160°C (320°F) if fan assisted.
Line a large baking tray with baking paper.
Mix all ingredients together and place into a food processor.
Turn on the food processor and mix until a dough begins to form. If it isn't quite sticky enough add a little extra honey or syrup.
Remove the dough from the food processor and form a ball with it. Place this onto the centre of the baking paper on the tray.
Place another sheet of baking paper on top of the dough ball. Use a rolling pin to roll out the dough between the sheets of baking paper. It should be about 5mm (½ cm) thick. Remove the top layer of baking paper when dough is the right thickness.
Using a knife, cut the large biscuit into squares or rectangles.



Tip: If you are planning to use these to make mini houses, rectangle shapes are best.
Bake the biscuit sheet for 8-12 minutes until the edges are slightly brown. Leave the biscuits to cool and become crispy.
Time to enjoy your pawsome biscuits! We think they are especially delicious served with fruit and yoghurt.