Ever wanted to live in a house made of biscuits? Now you can, or at least make one and eat one.
These easy biscuit houses don't require any cooking, just assembling and decorating. You can make your own biscuits too, e.g. 'Healthy Cinnamon Biscuits' (but be careful as they can be very crumbly!)
Cooking time:  15 minutes decorating
Makes: 4 houses
Difficulty Level: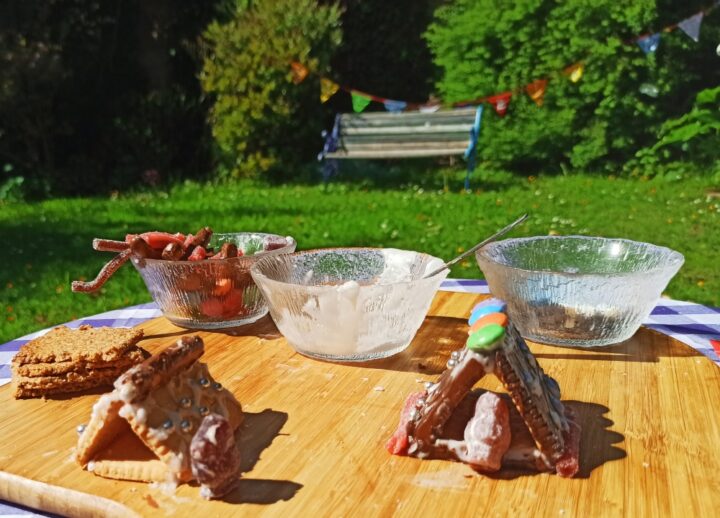 Ingredients:
Icing (ready made or icing sugar mixed with water)
Decorations (e.g. sweets, nuts, currants and chocolate)
12 rectangular biscuits (e.g Nice, Leinbniz or Healthy Cinnamon Biscuits)
Equipment:
Mixing bowl (if making your own icing)
If using icing sugar to make the icing, mix with water a bit at a time to create a sticky consistency.
Place one of your biscuits down flat. Ice the 2 long sides of the biscuit (or all 4 sides if you like the look). This is your base biscuit.
Dip the 2 long sides of another 2 biscuits into the icing (or paint it on). These are your side biscuits.
Press 1 iced edge of each of these 2 side biscuits onto each of the long iced sides of your base biscuit.
Join the 2 side biscuits together at the top. You now have your biscuit house, you just need to wait for it to set!
Once the icing on your house is dry, you can now decorate. Use icing to add your decorations to your houses.

Hint: Be careful not to move it too much so it doesn't fall over!
What about giving your biscuit house a jelly baby inhabitant?
Bake the biscuit sheet for 8-12 minutes until the edges are slightly brown. Leave the biscuits to cool and become crispy.
Time to enjoy your pawsome biscuits! We think they are especially delicious served with fruit and yoghurt.
Further suggestions
If you want to create more elaborately decorated biscuits, e.g. using icing, you may want to decorate the biscuits before building them into your houses.