Cucumber yoghurt dip is a classic and different versions are made in many different countries.
We have made this one with garlic and mint, similar to the Greek dip Tzatziki, or Cacik in Turkey, but you could try out different flavours.
Purrfect to fill your vegetable boats with!
Cooking time: less than 20 minute
Makes: 1 bowl
Difficulty Level: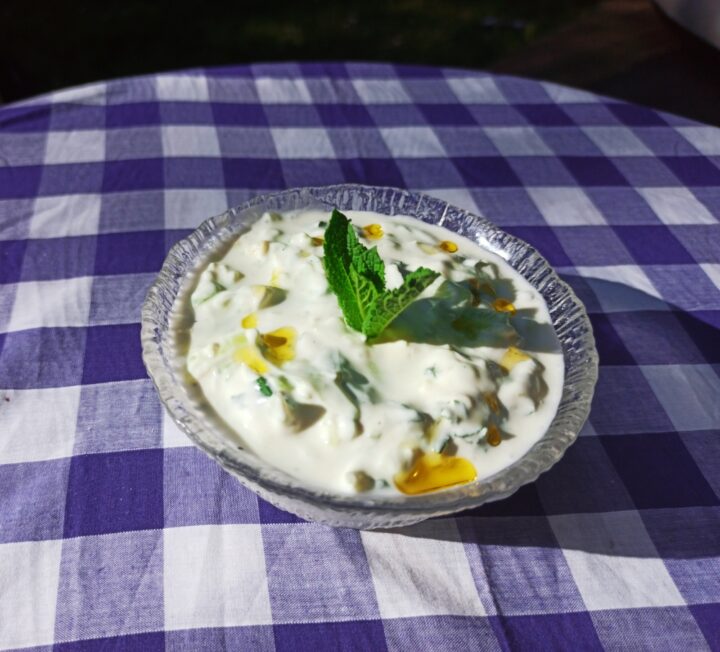 Ingredients:
200g Greek yoghurt (plain yoghurt or natural coconut yoghurt works too)
½ cucumber
Handful of fresh mint
1 garlic clove
1 tablespoon lemon juice
Equipment:
Grater
Garlic crusher (optional-you can finely chop the garlic instead)
Mixing bowl
Spoon
Knife
Chopping board
Grate the cucumber, using the bigger holes in your grater
Squeeze the cucumber in handfuls over a bowl in the sink to get rid of excess water. Hint: Do this over a bowl in case you drop some of the cucumber.
Add the yoghurt to a bowl with the lemon juice and cucumber.
Crush the garlic and add to the yoghurt.
Remove the mint leaves from the stalks and chop them finely. Add to the yoghurt.
Stir the yoghurt and other ingredients to form your dip. Season with salt and pepper to taste.
Chill your dip in the fridge before serving.



Tip: we like to add a drizzle of olive oil on the top before serving. It makes it look all fancy but also tastes good.
Other suggestions:
Why not try this with other herbs instead of mint, such as fresh parsley?