Karelian Rice Pies (Karjalanpiirakka)
Tiikat thinks Karelian rice pies are the best thing since sliced bread! They are traditionally topped with egg butter, but they can be topped with anything you'd top sliced bread with too.
(Karelian pies are filled with delicious rice porridge and then baked in the oven. Yum! It is a good idea to make some extra rice porridge so you can eat it for breakfast.)
Karelian pies are so popular in Finland that you can find them sold everywhere, even in petrol stations. Tiikat is excited to share them with you!
Cooking time: 45 mins (+ 30 mins for rice porridge)
Makes 14
Difficulty Level: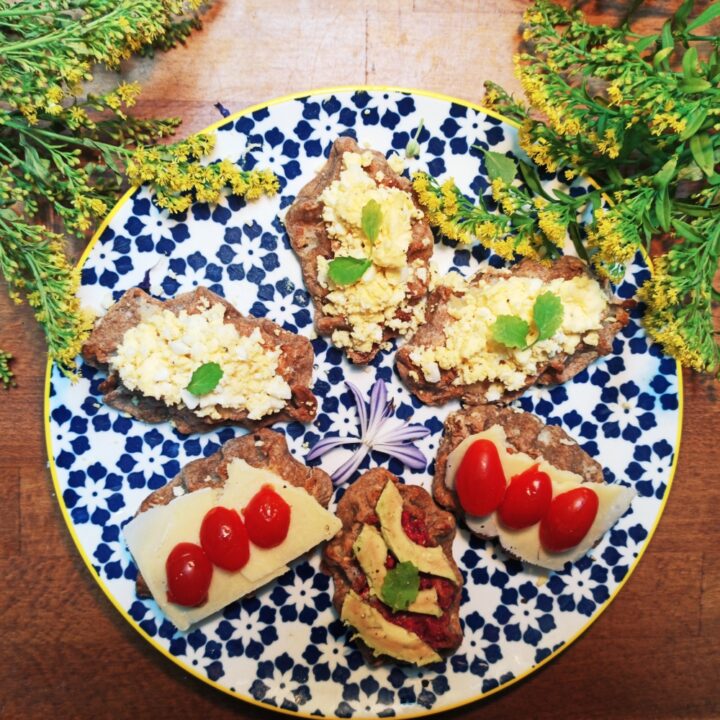 Ingredients:
Rice porridge (see recipe)
½ cup water
1 cup rye flour
¼ cup plain flour
1 teaspoon salt
¼ cup milk
¼ cup melted butter
For the optional egg butter topping-
3 hard boiled eggs
½ cup butter (at room temperature)
Equipment:
Large baking tray
Mixing bowl
Saucepan
Baking paper
Rolling pin
Measuring cup or jug and scales
Pastry brush or knife
Fork
Make the rice porridge according to the recipe.
Preheat the oven to 230°C (450°F).
Line a baking tray with baking paper.
Combine the water, salt, rye flour and plain flour in a bowl. It should make a stiff dough.
Shape your dough into a log and cut into 14 portions.
On a lightly floured board, roll each of your portions into an oval/round shape.
Spread about 3 tablespoons of filling onto each round, leaving some space around the edge.
Fold the edges of the pastry over the edges of the filling, leaving the centre of the filling exposed. Crimp the edges of the dough, pinching it in between your fingers.
Place your pies onto your prepared baking sheet.
Heat up your milk and butter in a microwave or on the stove carefully until the butter has melted. Brush on the pies using either a pastry brush or knife.
Bake the pastries for 20-25 minutes, brushing them twice with your butter mixture in the middle of baking, until the pastries are golden on the edges.
For the optional egg butter: mash up your butter with a fork so that is softer. Then add your eggs and mash them with a fork. Season with salt and pepper to taste.
Your Karelian pies are ready to serve. Top them with egg butter, cheese or any other fillings you would usually put in sandwiches. They are delicious warm or cold. It's difficult to just eat one! Hint: These freeze well if you have any left over.
This recipe calls for a rice filling, but there are other traditional fillings including mashed potato or meat. Why not try some different fillings out?