Super hungry Tiikat was delivered crackers by the mice when he was stuck in the cleaning cupboard.
These cracking crackers are easy to make and can be topped with your choice of seeds, herbs or spices. Purrfect!
Cooking time:  15 minutes preparing, 15 minutes baking
Makes: about 40 crackers
Difficulty Level: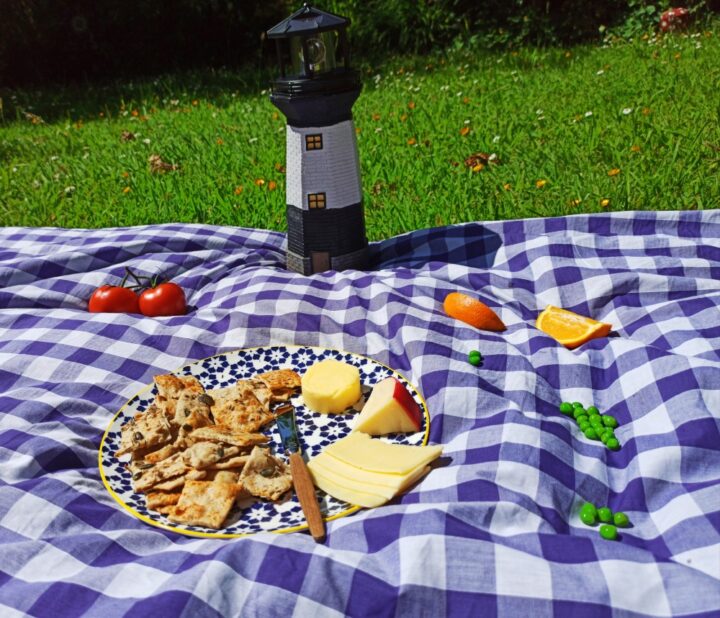 Ingredients:
1½ cups (130g/4.5oz) plain flour (or a mix of plain and whole grain flours)
1 teaspoon sugar
1 teaspoon salt
2 tablespoons olive oil (extra virgin if you have)
½ cup (120ml) water
Seeds, herbs and/or spices for toppings
Equipment:
Baking (or greaseproof) paper
Large baking trays
Mixing bowl
Wooden spoon or spatula
Rolling pin
Knife or pizza cutter
Fork
Measuring cups (or weighing scales) and measuring spoons
Preheat the oven to 230°C (450°F) or 210°C (410°F) in a fan assisted oven.
Line 2 baking trays with baking paper (If you only have one baking tray you need to repeat steps 10-13 after the first batch has baked.)
Using a wooden spoon mix your flour, sugar and salt together in a bowl.
Add the olive oil and water to the flour mixture.
Stir until a soft, sticky dough is formed. If necessary add more water a tablespoon at a time to make sure all the flour is mixed in.
Sprinkle your work surface lightly with flour and place the dough on top. Shape into a square by patting the sides.
Sprinkle some flour onto your rolling pin and roll out the dough, starting from the middle. It needs to be thin, approximately the thickness of a small coin.
Brush the surface of the dough lightly with water. Sprinkle over your chosen topping of seeds/herbs/spices.
Cut the dough into cracker-sized rectangles using a knife or pizza cutter.
Transfer the crackers to the baking sheet covered trays and prick each cracker with a fork (this prevents them from puffing during baking).
Bake crackers in the oven for 12-15 minutes, until the edges are lightly browned.
Remove the crackers and leave to cool completely. They will crisp further once they cool before serving!
Remember to store the crackers in an airtight container so they will last longer (3-5 days)!
Further suggestions
You can keep experimenting with this recipe by trying different toppings, or different flours! We used a mixture of plain and rye flour and mixed seeds, cayenne pepper and oregano for the toppings this time. What did you try?
You can also make cheese crackers by adding grated cheese to the flour mixture. If trying this it is best to use a food processor to mix it with the flour mixture.