Gingerbread is delicious at any time of the year and smells incredible too.
You can make all sorts of shapes, but as Tiikat is missing his home we are making houses.
A 3D gingerbread house can be very complicated, so this is a much easier way. They can also be hung onto a tree or around the house.
Cooking time:  15 minutes preparing, 10 minutes baking, 5 minutes icing
Makes: 10 – 15
Difficulty Level: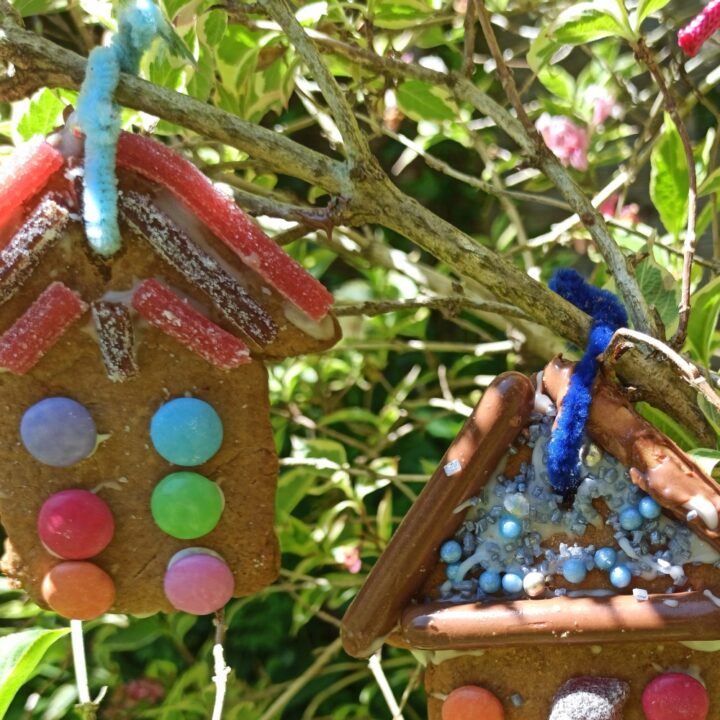 Ingredients:
350g (12oz) plain flour
150g (5oz) soft dark brown sugar (Dark muscovado sugar is fine)
125g (4oz) butter
2 or 3 teaspoons ground ginger (choose 2 if you don't want them too gingery)
1 teaspoon bicarbonate of soda
4 tablespoons golden syrup
1 egg
Icing (icing sugar mixed with water or ready made icing)
Sweets/currants/nuts/chocolate for decoration
Equipment:
Baking (or greaseproof) paper
Large baking trays
Large mixing bowl
Small bowl or cup
Wooden spoon
Rolling pin
Knife and/or cutters of your choice
Fork
Ribbon or pipe cleaners if you plan to hang your gingerbread
Preheat the oven to 180°C (350°F), 160°C (320°F) if fan assisted.
Line 2 large baking trays with baking paper. (If you only have one baking tray you need to just repeat steps 11-12 after the first batch has baked.)
Using a wooden spoon stir the flour, ginger and bicarbonate of soda together in a large bowl.
Cut the butter up into smaller pieces.
Rub the butter into the flour mixture using your fingertips. Keep rubbing in the butter until the mixture resembles fine breadcrumbs.
Stir in the sugar to the flour and butter mixture.
Using a fork, beat the egg in a separate bowl or cup
Stir the golden syrup and egg into the flour mixture, until it starts to come together as a dough.
Lightly flour a work surface. Tip the dough mixture onto the floured surface and knead it with your hands until smooth.
Sprinkle the surface and the rolling pin lightly with some more flour and roll out the dough. It should be about 5mm (¼ inch) thick.
Using a knife cut out any house shape or size you want. You can also cut out other shapes using a knife or cutters.

Tip: If you plan to hang your gingerbread houses then use a knife or skewer to make a hole at the top.
Place the biscuits on the baking trays and cook for 9-10 minutes.
Leave the biscuits to cool on their trays.
If you are making icing using icing sugar, mix together icing sugar and water gradually until you get a good sticky consistency.
When the biscuits have cooled, decorate them with icing and other decorations.

Tip: Use the icing to stick the decorations onto the gingerbread. You can either put the icing onto the gingerbread, then add the decorations, or dip the decorations into the icing and place them onto the gingerbread.
If you are hanging the gingerbread thread a pipe cleaner, or some ribbon through the hole once the icing has dried.
More ideas
Can you make other homes using gingerbread? What about a beehive or a castle? Gingerbread is great for experimenting with. It is also great for giving as gifts!