Chocolate Cornflake Nests
Chocolate nests are delicious and look great too! Purrfect homes for chocolate birds.
They can be made with different cereal, such as Rice Krispies or broken up Shredded Wheat, too.
Beware of miniature tigers trying to steal your nests!
Cooking time: less than 20 minutes preparing, 1 hour chilling
Makes: 12
Difficulty Level: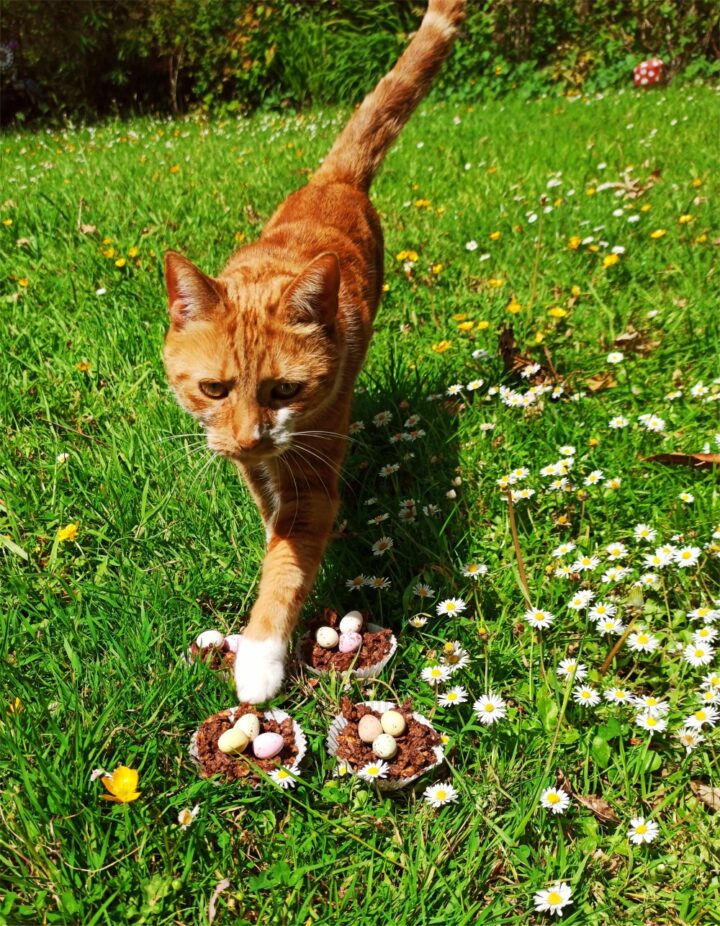 Ingredients:
250g Plain or Milk Chocolate (we like to use a mixture)
2 tablespoons Golden Syrup
50g Butter
75g cornflakes
Mini chocolate eggs (or anything else you want to put in the nests!)
Equipment:
Cupcake cases
Wooden spoon
Small Saucepan
Heatproof bowl (wider than the saucepan)
Fairy cake (cupcake) tin (not essential)
Line a 12 hole fairy cake tin with paper cupcake cases.
Break up the chocolate into the heatproof bowl.
Add the golden syrup and butter to the chocolate.
Melt the chocolate, golden syrup and butter by setting the heatproof bowl over a saucepan of gently simmering water. (Do not let the base of the bowl touch the water!)
Stir the mixture until smooth. Be very careful if it is hot!
Remove the bowl from the heat and gently stir in the cornflakes until they are coated in the chocolate.



Tip: We like to leave a tiny bit of cornflake showing for texture.

Divide the mixture between the cupcake cases and press 3 chocolate eggs into the centre of each nest.
Chill in the fridge for 1 hour, until the nests are set.